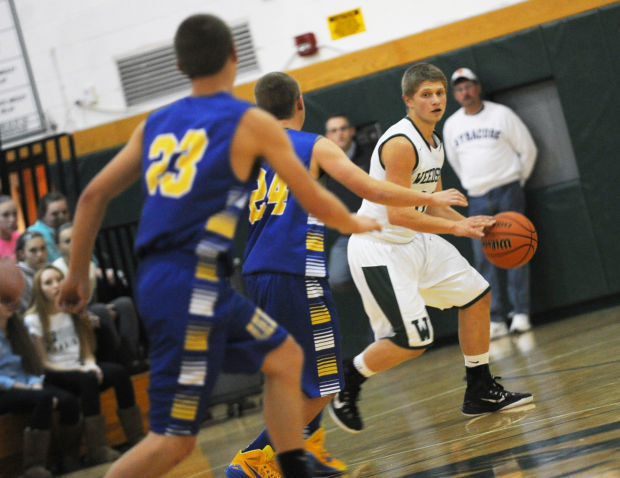 WEEDSPORT | The Cato-Meridian boys basketball team didn't walk off the court with a win, but it played hard and had a good lead early. Weedsport emerged with its first win of the season after struggling early.
Neither team's coach left the Weedsport High School gym on Tuesday night overly excited by what they saw after the Warriors' 51-42 win.
"I thought we let guys push us around a little bit inside," Weedsport head coach Matt Lipiska said. "We got out-rebounded and I didn't think we should have."
Cato-Meridian came out of the gate firing, led by seven points with two minutes left in the first quarter, and took a 12-7 lead into the second.
The Warriors took off in the second quarter, though, scoring 24 points, fueled by JJ O'Connor's 12 points. The junior finished with a game-high 20, along with five rebounds.
"They started to hit some shots," said Cato-Meridian head coach Kevin Aukema said. "We started off playing hard and that's what I'm trying to do. If we keep playing hard, we're going to do good things."
With three key players – Jake Lamphere, Malique Wright and Hunter Bowden – all out for the season after tearing ACLs during football season, the Warriors are missing loads of leadership and experience, starting five juniors.
"We've got a lot of guys that didn't play last year that we got off JV," Lipiska said.
The Blue Devils aren't without their share of injuries because of football. They're missing Ryan Haskins, who dislocated his elbow near the end of the season, but Aukema expects him back in a couple of weeks.
Missing most of the fourth quarter for Cato-Meridian was senior Austin Bell, who left the game after a head injury. Bell was leading the Blue Devils with 10 points. With Cato-Meridian closing the gap to six points, the team was only able to score six in the last eight minutes of the game. Korey Kline finished with 11 points in the loss.
"(Bell) is kind of our floor general this year, losing him as our penetrator – we got them in a lot of foul trouble, it was a loss," Aukema said. "Korey Kline has played a lot of basketball this offseason, he's a hustler and a scrapper. He does a good job out there."
For Weedsport, Noah Schramm scored 12 points in the win, while Stephen Nemec had nine rebounds. Shaun Ferguson had nine rebounds and two steals.
"It's a little disappointing, I thought we could have scored more," Lipiska said. "There are little things that I thought we didn't do right but I'm pretty confident that we'll get better at it. We talked about stopping the ball in transition and then we didn't do it."
Weedsport (1-0) hosts Port Byron on Thursday, while Cato-Meridian (0-1) hosts Port Byron on Tuesday. Aukema isn't thrilled with the week off without a game, especially knowing his team could have played better against Weedsport.
"There are no moral victories," Aukema said. "We're going to play hard for 32 minutes. We played hard and busted our butts."
http://auburnpub.com/high-school/cato-meridian/weedsport-boys-basketball-tops-cato-meridian/article_58422008-d7f7-5827-8353-ba0c76345694.html