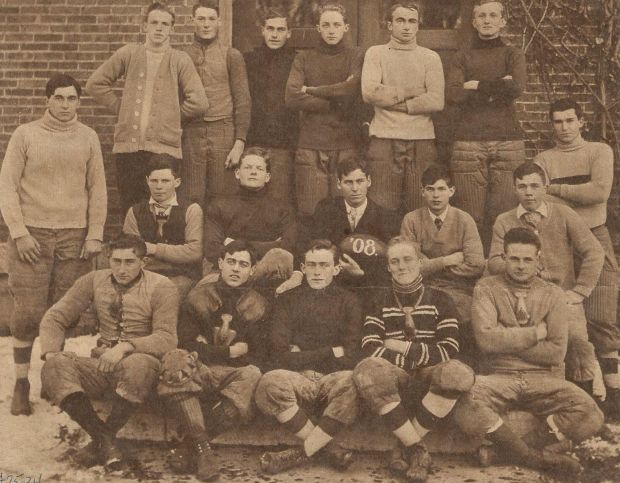 In 1956, after the Brutus Street high school was built and the junior and senior high classes moved in, Weedsport football had by then morphed from six-man to eight-man squads. The first eight-man game was played on Sept. 20, 1956, against Moravia. Weedsport football was in a state of flux for several years. For a time the field at the Jackson Street building was continuing to be used for practice and games, which continued to be played on Friday nights under the lights. This situation was unsatisfactory for several reasons, not the least of which was the long hike from the high school, over science hill to the old field and back, which ate up a lot of practice time.
In due time, a field was laid out at the Northwest corner of the athletic field at the high school. The site was never satisfactory for many reasons, including the fact that lying as it was along the toe of the slope of the hill, it was soggy much of the time from runoff coming off the hill. Another issue was that the portable lights had to be left behind since there was no way to power them at the new field and thus the team was relegated to playing Saturday afternoons. Attendance dropped precipitously. The old Cayuga County League had by then disbanded, and we were playing in the much larger Onondaga County league with 11-man teams.
In 1972, a committee was formed of community-minded individuals and groups to form a plan for a new football field. After many fits and starts, the site selected was an area directly east of the high school building. There were a couple of flaws in this plan! The worst one was a matter of elevation. The land in question ran down a steep slope to Putnam Brook and would require untold amounts of fill, which the school system simply could not afford. Art Sayles of Shepherd Road owned a largely abandoned gravel pit on his land and he agreed to furnish whatever fill was required at no cost. The village of Weedsport and the town of Brutus and several individual contractors agreed to the use of their equipment if operators could be located. That was how a number of us spent that entire summer's evenings and weekends, hauling hundreds if not thousands of truckloads of gravel.
As kind of a note aside, at the time the village had acquired a deuce and a half Army truck as war surplus. Clever Weedsport DPW Superintendent Ralph Black had mounted a huge 20-cubic-yard box on it for the purpose of hauling snow away from the streets in the winter. He sure never designed it to haul full loads of gravel on the spindly single rear wheels. The thing had a Hydramatic transmission and you could never tell when it was going to shift up or down, and it shifted hard! Eventually, with fireman and town employee John Fitzgerald volunteering his time with the town's Galion grader, the grade slowly started to come up to a reasonable level, and over the course of a little more than a year we had built the area up to where it could be seeded and a field laid out, much as you see it today.
Continuing on in 1973, it was decided that we were not going to regress back to playing Saturday afternoons, having played under lights for so long. Accordingly, yet another committee was formed, "Operation Lights," chaired by Ray and Bonnie Swim. Just about every type of fundraiser you can imagine was used to generate funds. On April 1, 1973, a pancake breakfast was held at the Grange Hall that netted $100, and a snowmobile raffle was held that earned $960. The fire department donated $200 and sponsored a spaghetti dinner for $160 more. Nearly every church group and organization in the village got involved, and it wasn't long before the lights were on order.
Something that has always been a mystery to me to this day is how Weedsport resident Alex Weiczorek, who worked for Niagara Mohawk, managed to talk his bosses into donating the 65-foot poles, transporting them from Syracuse to Weedsport under permit and sending out a digger to set them! They also donated all the heavy wire needed to make the connections. This would be remarkable even if we were in Niagara Mohawk's service area, but we are NYSEG! The actual wiring of the lights was done by Alex, Andy Vesosky and other linemen in the community. In the fullness of time, Weedsport football again was played under the lights on a field, which had the advantage of being in a natural amphitheater, where the action is all viewed from above. It was decided to name the field the Clinton Eddy Goodwin Memorial Field after WCS alumna and former football player Eddy Goodwin, who suffered a broken neck playing football for Duquesne University and subsequently died from his injury. In a bit of irony, his grandfather Dr. C. E. Goodwin, after whom he was named, was a star running back on the Syracuse University squad, and was Weedsport's team physician for decades. The Warrior booster club donated the electronic scoreboard and built the three-story press box.
Eventually, the school took over, installed drainage, updated the lighting, installed a magnificent all-weather running track around the perimeter, put in a state-of-the-art P.A. system and many other improvements. However, the community is still involved. A couple of years ago, one of the alumni classes donated a pair of digital play countdown clocks. I attached a photo of the 1908 football squad posed in front of the old high school, which was next to the Chirco home on Jackson Street. What is now the elementary school was not built until 1910. See if you remember any of the names: In the front, from left, are Grover Trumble, Harry Eldridge, James Wright, Harry Sheldon and Ray Putnam. In the middle, from left, are Glenn Gilbert, B.C. Harrington, William Stevenson, Ray Abbot and Clare Gilbert. And in the back, from left, are Leroy Oliver, Harold Follett, George Robinson, Harold Hoyt, Neal Sheldon, Joe Gibbs, Ray Traver and Allen Lamphere.
http://auburnpub.com/columnists/denny_randall/randall-how-weedsport-football-went-dark-and-found-the-light/article_f7e760e3-eb82-5733-9d66-867593d74929.html