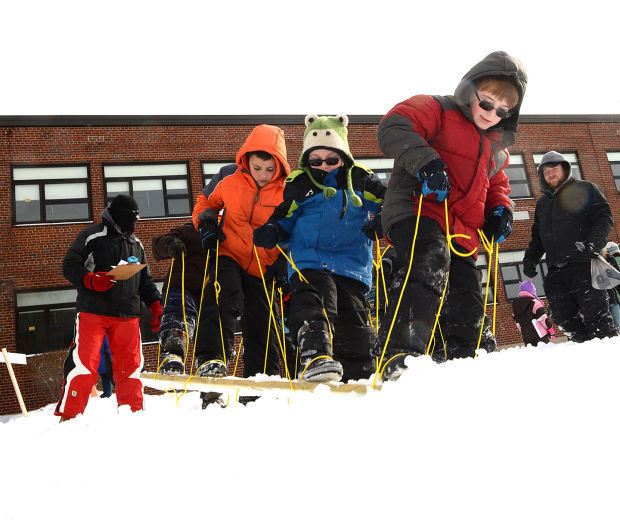 WEEDSPORT | The frigid temperatures and accumulation of snow over the past few days have been seen as a nuisance to many — but for Boy Scout troops throughout the county the weather was a chance to show off their skills.
On Saturday morning fields around Weedsport High School were transformed into a seven courses in which area Boy Scouts and Cub Scouts tested their skills during the annual Klondike Derby.
The Klondike Derby is a winter event held by many scouting troops in North America and is based on the heritage of the Klondike Gold Rush. It has been in practice since 1949 and tests the scouting skills and leadership abilities of scouts, who earn points at each station for a total score and awards at the completion.
Hosted by Weedsport Boy Scout Troop 59 and Cub Scout Pack 59, the derby tested skills such as knot tying, fire starting and snowshoeing, winter survival and river crossing using only items found in the wilderness.
"It's a friendly competition that fosters physical fitness, leadership skills and the ability to handle the cold," said Weedsport Troop 59 Scoutmaster Andy Roden. "In the summer they have camping and other activities, and this is a great way for them to show off all that they have learned through the year."
The competition was split into two sections. One being for the older boys and another for the younger scouts.
Cub Scouts had fun building their own fire to roast a marshmallow and practiced their snowshoeing abilities while the older scouts practiced orienteering by finding their way through the wilderness and snow using only their learned skills.
Another station had scouts building a makeshift sled from tree limbs to transport a person over a pretend raging icy river.
"Scouting builds leaders," said troop 59 assistant scoutmaster Don Bacian. "Today they will demonstrate those abilities and put them to the test out in the field. These skills and abilities that they are learning now will be with them for the rest of their lives and they will be able to get through life and anything that it may throw at them."
http://auburnpub.com/news/local/cayuga-county-area-boy-scouts-test-their-winter-survival-skills/article_edb63b5e-ae44-5828-b964-4cab81598bbc.html